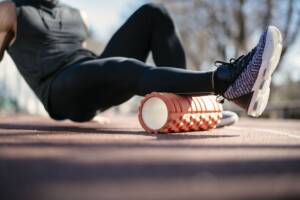 WHAT IS FOAM ROLLING?
Foam rolling is a fantastic exercise, commonly used for self-muscle release. It is like a deep tissue massage for your muscles and is great for working into tight muscles that may be causing problems with joints and mobility. It is used for breaking down developed scar tissue within muscle and increasing blood into muscles.
Along with muscles, it also works into a soft tissue called fascia. Fascia is tissue that connects with your muscles together to provide support throughout your entire body. Fascia should be mobile as it is elastic and can stretch and move as one with the rest of your body. However, often due to increased exercise intensity, poor posture or movement patterns, stress and lifestyle factors, this fascia can tighten and become stiff, restricting movement and even causing pain.
RELIEVES MUSCULAR SORENESS AND SPEEDS UP RECOVERY
Overuse, increased exercise intensity, injury and even inactivity can lead to muscular shortening and reduce mobility. Foam rolling allows built-up scar tissue in the muscles to be broken up, at the same time increasing blood in to your muscle, providing your muscles with more nutrients and more oxygen. It also eliminates the over production of lactic acid. This then results in your muscles feeling and performing a lot better.
IMPROVES RANGE OF MOTION AND MOBILITY
Poor mobility is often the result of the muscles and fascia becoming shortened, causing muscular trigger points, also known as knots. Shortened muscles then obviously effect range of movement and mobility, whilst trigger points can often cause pain and muscular fatigue. Foam rolling can break up the developed scar tissue and trigger points, allowing these muscles to stretch further and develop back to normal, increasing range of motion.
IMPROVES POSTURAL CONTROL AND CORRECTS MUSCLE IMBALANCES
Your body wants to be in natural equilibrium, a state of rest or balance, however, posture, gravity and external influences put strain on our muscular balances. Restoring mobility and aiding muscular function will naturally allow muscle imbalances to correct and restore. This is a beauty called postural reciprocal inhibition.
ENHANCES MUSCULAR PERFORMANCE
With increased mobility and range of motion, your muscles can perform better in your workouts, allowing you to increase power and strength.