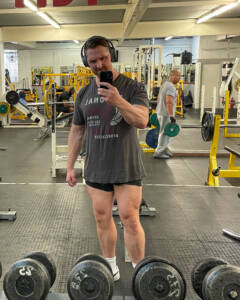 Around 2 months ago I went back to my old style of training, a bodybuilding split. Which I have not done since the end of December 2014 (when I became ill with myasthenia gravis).
I am doing 3 days per week, normally split over Monday, Wednesday & Friday with everything being hit once a week.
Monday: Shoulders & Arms
Wednesday: Legs
Friday: Chest & Back
Every exercise comprises of 4 working straight sets ( no drop sets, negatives etc).
Yesterday I weighed in at 94kg / 207 lbs which I am pretty happy with given my illness & now having a 5 month old baby.