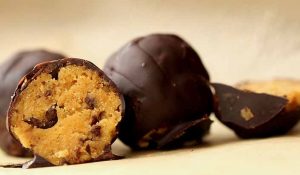 The secret ingredient to making this snack protein packed are the chickpeas which, make these protein cookie dough truffles perfect any time of day, especially when paired with a cup of coffee for a pre-workout snack!
Ingredients / Truffle
Vanilla protein powder: 1 scoop
Canned chickpeas (unsalted and cooked): 3/4 can
Coconut sugar (or low-carb granulated sweetener): 1 tbsp.
Coconut flour: 1 tbsp.
Chopped dark chocolate (or dark chocolate chips): 1 square
Ingredients (optional topping)
Dark chocolate: 2 squares
Directions :
In a food processor, mix all ingredients together except for the chocolate chips. Mix until you've formed a paste or dough. Taste the cookie dough to make sure it's sweet enough! If not, add more sweetener.
Add in the chocolate chips. If your mix is too sticky, add a tiny bit more of the coconut flour—just a half teaspoon at a time—until you get your desired consistency.
If you want to coat your truffles, melt the dark chocolate and dunk your truffles before placing them on an aluminum-foil-lined tray. Set in the fridge for a couple of hours before serving.