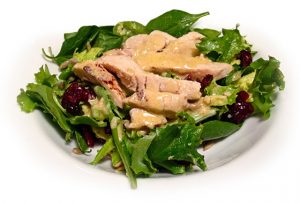 Like many, most are stuck on time to prepare food for their lunch. This recipe allows you make a tasty lunch that is quick and nutritious.
Ingredients :
2 handfuls of Spinach
1/2 sliced Avocado
40 g sunflower seeds
30g dried cranberries
1 grilled Chicken Breast
2 tbsp. Lemon Juice
1 tsp. minced garlic
1 tsp. Dijon Mustard
1 tbsp avocado oil
Directions :
Begin by slicing the avocado and then tossing with the spinach, sunflower seeds, and dried cranberries.
Slice chicken and then add on top.
In a separate bowl, combine lemon juice, minced garlic, Dijon mustard, and avocado oil.
Drizzle over top of the salad, toss, and then serve.