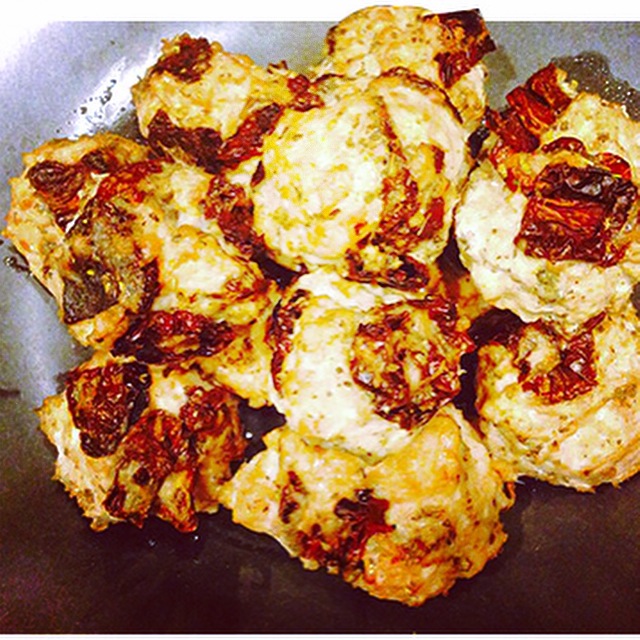 Meatball Ingredients
1. 500g – 600g of lean chicken mince
2. 80g of sun dried tomatoes
3. 1 tbsp Sea Salt
4. 2 tbsp oregano
5. 1 tbsp basil
Meatball Directions
1. In a bowl mix chicken, tomatoes, salt, oregano, and basil.
2. Add paper baking cups to a 12-cup muffin tin.
3. Roll mixture into meatballs with your hands and place into baking cups.
4. Bake at 180 C for 23-25 minutes
Spaghetti Squash Ingredients
1. Whole spaghetti squash
2. Sea Salt, chives, Basil
3. 1-2 tbsp coconut oil
Spaghetti Squash Directions
1. Microwave for about a minute at 50 percent power.
2. Cut the squash lengthwise down the middle.
3. You can remove the seeds prior to baking or after.
4. Place both halves of squash face down in a casserole dish with about an inch of water and cover with foil.
5. Bake at 180 C for about 40 minutes.
6. Remove from oven and flip halves face-up.
7. Bake another 5 minutes with foil on, then remove from oven and let cool for about 5-8 minutes.
8. Remove any remaining seeds, then brush a fork over the squash to make thin strands that look like spaghetti. Add sea salt to taste, chives, basil, and 1-2 tbsp of coconut oil.
9. Use the squash as a bed for your meatballs and serve!