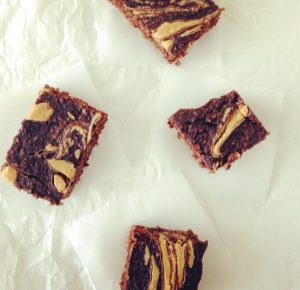 Fancy a sweet treat ? but minus all those calories ? Why not give these protein brownies a try . They are quick to make & taste great.
Ingredients
2 scoops chocolate protein powder (I used PHD)
90 grams of oat flour
1/2 tsp baking soda
3 tbsp baking cocoa
250 grams unsweetened applesauce
4 egg whites
120 mil unsweetened vanilla almond milk
5 drops liquid stevia
30 grams of mini dairy free chocolate chips
3 tbsp  organic crunchy peanut butter
Instructions
Preheat oven to 180 celsius. In a medium bowl, mix together protein powder, oat flour, baking soda and cocoa.
In a small bowl, mix together applesauce, egg whites, almond milk, and stevia. Mix wet ingredients into dry ingredients. Stir in the chocolate chips.
Pour batter into a greased pan. Take peanut butter into a spoon and place little dollops all over the top of the batter. Use a butter knife to swirl peanut butter all around the pan.
Bake for 25 minutes. Allow to cool slightly, cut, and serve!