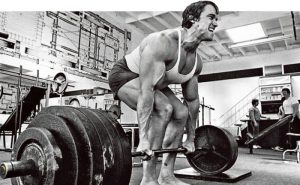 Why Deadlift?
It's always important to start with why. Why? Because having a good reason for doing something makes planning easier.
Quite simply, the deadlift is one of the most effective exercises for developing the pure strength that's a precursor to bodily size and athleticism. Since it's a full-body exercise that recruits a lot of muscle mass, the deadlift also builds total-body muscle. It's also one of the few exercises that directly targets the hamstrings, a group of muscles often neglected.
The deadlift also improves posture. We live most of our lives in front of our bodies, ignoring our rears. In turn, we develop bodily frames without balance, leading to a host of postural issues—hunched shoulders and weak backs, for example. Deadlifting reintroduces us to our body's backside. Posterior training balances the body, giving us cause to stand taller and with greater strength.
In short, deadlifting will support your aesthetic goals, help you build better posture, correct various strength imbalances, help you build total strength, and turn you into a total gym badass. After all, there's nothing quite like ripping heavy weight from the ground.
How to Deadlift
Look on YouTube and you'll find a multitude of videos of folks doing their best one-hump camel impersonations while dragging a barbell up their legs. These well-intentioned lifters are not to be emulated. Every time you deadlift, you should be totally focused on good form
Good form's main purpose is no secret: It reduces injury risk. The risk is never completely eliminated, but good deadlift form distributes the lift's stress evenly across tissues rather than placing a destructive load on a specific area—the lower back, for example.
Secondary to limiting injury risk, good form also boosts performance: The right muscles work at the right times to crane the bar from the floor to the lockout position. When you lift with good form, the bar follows a path that allows for efficient use of the legs, hips, and back.
What does good deadlift form look like? Your feet should be spaced hip-width apart with your grip just outside your legs. Your back should be flat—neutral spine—from start to finish. The bar should remain in contact with your legs for the entire range of motion. Your hips and knees should move in concert to transfer the bar from the ground to an upper-thigh, locked position.
If you can't maintain a flat back when setting up to deadlift from the floor, don't deadlift from the floor! There's no rule that says you have to. Elevate the bar on squat-rack pins or jerk boxes to a position in which you can flatten your spine. This wonderful deadlift variation is called a "rack pull," and it's especially good for those with mobility issues that limit their deadlifting range of motion.