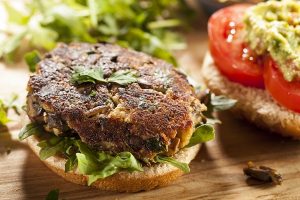 Ingredients :
400 grams of organic extra lean mince
2 egg whites
1/2 onion, finely minced
100 grams oats
2 tsp. Worcestershire sauce
1 tbsp. soy sauce
1 tbsp. low sugar barbeque sauce
4 whole wheat burger buns
Lettuce
Tomato
Mustard
Directions:
1. Combine ground beef, egg whites, onion, oats, with Worcestershire sauce, and soy sauce.
2. Form into four patties and place on a heated grill.
3. Brush patties with barbecue sauce as they cook. Flip patties every few minutes until cooked to desired specs.
4. Serve on top of the bun with lettuce, tomato, and mustard if desired.