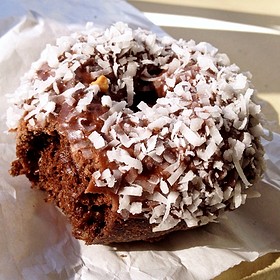 Ingredients:
1 1/4 cup almond flour
1/4 tsp salt
1/2 tsp baking soda
1/4 cup cocoa powder
3 farm fresh brown eggs
1/4 cup coconut oil, melted
2 tablespoons honey (you could also use maple syrup )
1/2 teaspoon pure vanilla extract
Preheat oven to 350F. Grease your doughnut pan with coconut oil.
In a medium-sized bowl, whisk together all of the dry ingredients. Transfer to the blender*.
In the same bowl, whisk together all of the wet ingredients. Add to the blender.
Blend the batter until is very smooth. Pour into greased doughnuts molds, filling them about 2/3 of the way.
Bake for 12 minutes. DO NOT OVERBAKE or they will be dry. Remove the doughnuts pans from the oven, allow to cool in the pan for 3 minutes, then pop them out and all them to cool the rest of the way on a rack. Make your frosting in the meantime……
Chocolate Frosting:
1/4 cup cocoa powder
1/4 cup  coconut butter
1/3 – 1/2 cup water
Add all of the ingredients to a high-speed blender, start with just 1/3 cup of water, you can always add more. Let everything sit for a few minutes.
Blend everything together at a high speed. It may take a little bit to get the it started, so you can start at a slower speed and increase the speed a little at a time.
Continue blending long enough to get a smooth, velvety consistency, this may take 5 minutes or more. If the frosting seems like it isn't moving around in the blender because it is too thick, before you add more water, use a spatula to unstick the mixture from the blades and make some room in there. Put the lid back on and keep blending.
Serving the doughnuts:

Additional toppings:
1/4 cup unsweetened finely shredded coconut
1-2 tablespoons of semi-sweet mini chocolate chips
Once the donuts have cooled, spread a thin layer of frosting on top and sprinkle with some finely shredded unsweetened coconut and a few mini chocolate chips.