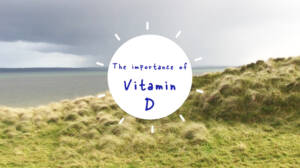 Now that the sun is shinning. Their are no excuses NOT to get enough Vitamin D.
Vitamin D is both a nutrient we eat and a hormone our bodies make. It is a fat-soluble vitamin that has long been known to help the body absorb and retain calcium which is critical for building bone. Also, laboratory studies show that vitamin D can reduce cancer cell growth, help control infections and reduce inflammation. Many of the body's organs and tissues have receptors for vitamin D, which suggest important roles beyond bone health, and scientists are actively investigating other possible functions.
Few foods are naturally rich in vitamin D3. The best sources are the flesh of fatty fish and fish liver oils. Smaller amounts are found in egg yolks, cheese, and beef liver. Certain mushrooms contain some vitamin D2; in addition some commercially sold mushrooms contain higher amounts of D2 due to intentionally being exposed to high amounts of ultraviolet light. Many foods and supplements are fortified with vitamin D like dairy products and cereals.
Cod liver oil
Salmon
Swordfish
Tuna fish
Orange juice fortified with vitamin D
Dairy and plant milks fortified with vitamin D
Sardines
Beef liver
Egg yolk