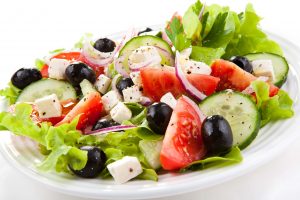 Salads can be dull & boring especially if you find eating healthily hard but fear not as you can easily rectify this by spending a few minutes more preparing this tasty salad which I personally love to eat with a good either steak.
Ingredients: 

3 large ripe tomatoes, cut into medium pieces or wedges

1 cucumber, sliced

1 small red onion, thinly sliced

salt and freshly ground black pepper to taste

2 tablespoons olive oil

1 /2 teaspoons dried oregano

100g feta cheese, crumbled

handful black Greek olives
Prep:
In shallow salad bowl, combine tomatoes, cucumber and onion. Sprinkle with salt to taste and let sit for a few minutes so that the salt can draw out the natural juices from the tomato and cucumber.
Drizzle with olive oil and sprinkle with oregano, and pepper to taste. Sprinkle feta cheese and olives over salad. Serve.