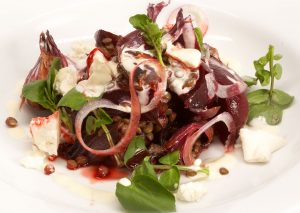 This autumnal salad recipe combines earthy beetroot, tangy goat's cheese & hazelnuts to make a quick & easy salad that you can combine with a variety of winter warming foods.
Ingredients : 
1kg raw beetroot, trimmed, peeled & cut into wedges
2 tbsp olive oil for roasting
80g watercress
70g whole fresh herb leaves
2 tbsp pomegranate molasses
2-3 tbsp extra-virgin olive oil
Chilli flakes to sprinkle
150g fresh goat's cheese
50g blanched hazelnuts, toasted on a baking tray in a medium oven until golden, then roughly chopped
Preparation :
1.Heat the oven to 200°C. Toss the beetroot wedges with the 2 tbsp oil in a roasting tin, season, then spread out. Roast for 45-50 minutes, turning occasionally, until soft & slightly blackened.
2. When the beetroot is ready, put the watercress in a large mixing bowl and toss with the herbs. Drizzle over 1 tbsp of the molasses, and 1-2 tbsp of the extra-virgin olive oil, then scatter with chilli flakes
Toss in the warm beetroot wedges, then season and divide among 4 shallow bowls or plates. Crumble over the goat's cheese, scatter over the chopped hazelnuts, then drizzle with the remaining molasses and extra-virgin olive oil. Add a final scattering of chilli flakes, then serve.