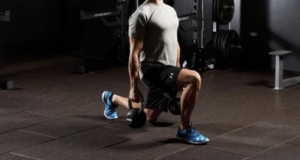 Walking lunges. An exercise my clients generally hate ( LOL ). They are hard BUT effective. Lunges work a majority of muscle groups in one movement making them great for saving on time and effective for burning calories.
Here are just some of the reasons I love this exercise.
Improved Core Stability
If weight lifting is not your cup of tea, but you would still like to boost the stability / mobility of your core muscles, then walking lunges are a great way of doing so. These exercises strengthen the core muscles as your body is in constant motion when performing them.
Improved Balance
A workout based on lunges works both sides of the body, making it a unilateral exercise. This improves the balance and coordination of one's body. Exercises like squats and dead-lifts can never provide similar stimulus.
Boosts Functionality 
Walking lunges train the body in such a way that its functionality improves in many folds.  This can be extremely helpful when playing various sports where your body will move in a variety of angles.
Gives Your Spine A Rest
Squats are awesome BUT doing them week in , week out is taxing on your spine. This is when exercises such as step up's and lunges can assist. As zero resistance is based on the spine.