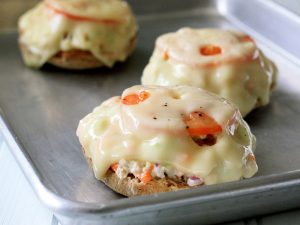 Eating enough protein can sometimes be hard, especially for a beginner. Here is a quick & easy way to get in around 30-40 grams effortlessly which still tastes great.
Ingredients:
1 English Muffin
1 tin of tuna
2 tbsp. tomato sauce
Sprinkle of oregano
Low fat cheese 1- 2 slices
Directions:
1. Slice the English muffin and then smear with the tomato sauce, one tbsp on each half.
2.Top with the tuna, sprinkle on some oregano, and place one slice of cheese on either side.
3.Place the muffin under the grill or in a toaster  for 2-3 minutes or until cheese is just melted.
Enjoy
---
---
---