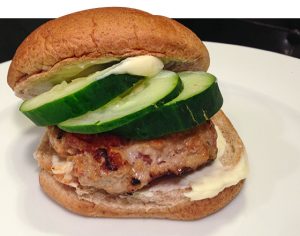 This turkey burger delivers a pleasing combination of fresh flavours & is a lower calorie option than a standard burger & its very quick to prepare.
Ingredients:
500g Lean turkey mince
1 Tomato sliced
2 tbsp Salsa
1 tbsp Garlic , minced
1 tbsp Olive oil
8 Slices of cucumber
4 Gluten free buns ( you may use what ever bun you wish)
Prepeartion: 
Combine ground turkey, tomato, salsa & garlic.
Once ingredients are well combined, form into patties.
Heat olive oil in a frying pan on a  medium heat.
Cook patties for 4-5 minutes per side or until done.
Remove from pan & lay on top of bun. Layer with cucumber.You may wish to add condiments & buns are optional.
Per serving with bun:
Calories:  388
Carbs : 36g
Fat : 8g
Protein: 39g