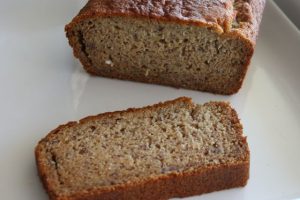 Gluten free banana cake
2 cups shredded coconut
1/2 cup coconut oil
1/2 cup caster sugar
1/4 cup brown sugar
2 eggs
3 very ripe bananas
200g greek yoghurt
1 tsp ground cinnamon
1/2 tsp ground cloves
1/2 tsp ground nutmeg
1 1/2 cups of gluten free self raising flour
2 tsp baking powder (gluten free)
Method
Preheat oven to 180°C. Line and grease a cake tin
In a clean, dry fry pan lightly toast the shredded coconut until golden brown. Put half of the coconut in the greased cake tin and press around the edges and bottom. Set aside for now, any excess will be tipped out later.
Using a mixer or hand beaters, cream the coconut oil and sugars until creamy, add one egg at a time and combine thoroughly. Then quickly beat in the bananas and yoghurt.
Add the flours, baking powder, spices and in any loose coconut from the cake tin and stir until well combined.
Pour the batter into the prepared cake tin and place in the oven for 45 minutes or until golden brown and cooked through. Turn it onto a cooling rack and allow to cool.
To make the frosting, place all ingredients in a mixer and slowly beat until well combined. Once the cake has reached room temperature you can ice it, taking it all the way to the bottom if you prefer. Sprinkle the remaining toasted coconut over the top.