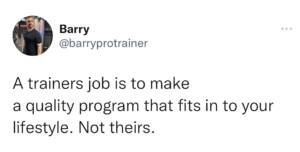 I can not tell you how many conversations I've had over the years with clients that have worked with other shitty trainers/ coaches previously about setting realistic goals/targets.
A majority of the general public will struggle to monitor food intake, get that extra workout in etc etc etc.
As a trainer/ coach. You have to remember, not everyone will eat, sleep & shit fitness like you do.
I ALWAYS make sure we work together to create a sustainable lifestyle based around YOU.