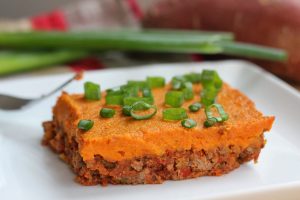 INGREDIENTS
1 egg yolk
1 cup skimmed Milk
400 g Extra Lean Ground mince
1/2 cup onions
2 tbsp butter
1/2 large uncooked carrot
1 cup All-purpose Flour
1/2 cup chicken stock
1/4 tsp salt
1/2 tsp Black Pepper
DIRECTIONS
Peel and cut sweet potatoes into large chunks. Place into a steamer & cook until tender (10-15 minutes or so)
While potatoes cook, heat a large pan on a  medium/ high heat. Add the mince. Season meat with salt and pepper. Brown and crumble meat for 3 or 4 minutes until cooked. Place into a small casserole dish.
Add 1 tbsp of butter to pan. Add chopped carrot and onion. Cook vegetables for 5 minutes or so, stirring frequently. Add in the other tbsp of butter and once it melts, sprinkle the flour on top and stir for a couple minutes. Whisk in stock and Worcestershire sauce.
Thicken gravy 1 minute.  Add gravy and vegetables to the meat in the casserole dish and mix.
Drain potatoes and put them back in the pot. Mash well , Mix well. Quickly stir in the egg yolk.
Preheat the oven to high. Spread the sweet potatoes over the meat mixture in the casserole dish. Sprinkle paprika on top. Broil 6 to 8 inches from the heat until potatoes are evenly browned, about 10 minutes.
Enjoy !!!