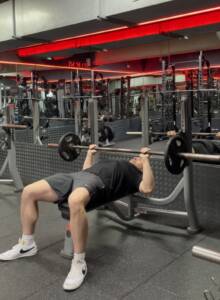 The bench press is a compound exercise that involves the pectoralis major of the chest, the anterior deltoids of the shoulder, and the triceps brachii of the upper arm.It builds strength as well as encourages the growth of these muscles.
The bench press can help restore muscle balance for athletes that primarily use pulling muscles, such as in rock climbing & swimming.
Beginners and those lifting heavy weights should get the assistance of a "spotter" who stands behind the rack and assists with the bar when you have trouble lifting.
Here is a "How to" guide.