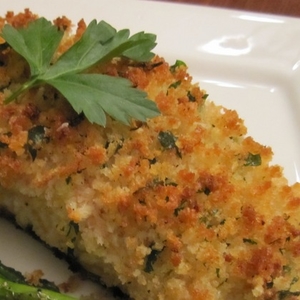 Cod is a great source of protein and very low in fat but for many it is a little tasteless and boring. Here is a quick and easy way to add some flavour without adding a ton of additional calories.
Ingredients:
1 Cod filet
White Flour 50g
2 Egg white / 1 yolk
Breadcrumbs 150g
Grated Parmesan Cheese / to taste
Dried Oregano 1/2 tsp
Dried Basil 1/2 tsp
Dried Thyme 1/2 tsp
Pinch of black pepper
Directions:
Preheat the oven to 220 degrees.
Place the prepared baking sheet in the oven to preheat.
Pat the fillets dry with a paper towel and season them with salt and black pepper.
In a shallow dish, stir together the flour, salt, and black pepper.
In a second shallow dish, whisk together the egg and egg whites.
In a third shallow dish, stir together the breadcrumbs, parmesan cheese, dried oregano, basil, and thyme.
Dredge each fillet in the flour, shaking off any excess. Dip the fillet in the egg wash, allowing the excess to drip off.
Gently press the fillet into the breadcrumbs.
Spray the tops generously with cooking spray.
Carefully remove the preheated baking sheet, and place each fillet sprayed-side down on the cooling rack. Spray the other side with cooking spray.
Bake for 16-18 minutes, or until just cooked through.